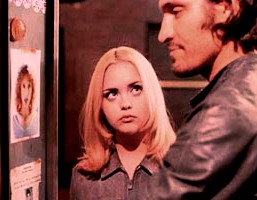 LAYLA: Can l get a kiss good-bye?
BILLY BROWN: No. Don't start. Please. Don't start trouble. Don't... don't. Don't start evil. l didn't say l'd give you a kiss. l said l'd get you a hot chocolate, okay? So l'm gonna go.
LAYLA: Can l have a hug then?
BILLY BROWN: Oh, man. Come on.
LAYLA: Can we just shake hands?
BILLY BROWN: Okay.
LAYLA: Remember you promised you'd come back.
BILLY BROWN: Promise.
LAYLA: Billy. l just want you to know...l think... you're the sweetest guy in the world and the most handsome...

(Ya lo dije en su día: peli imprescindible)