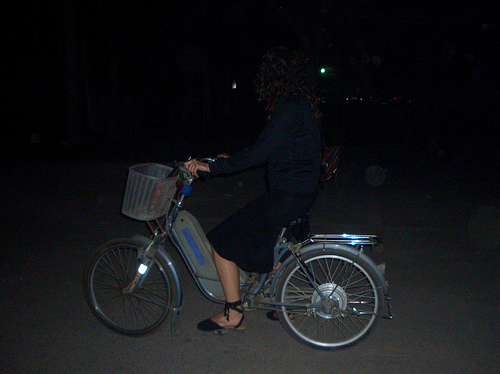 Bicycles are for the summer...
Tuesday night. At 8 o'clock the guys were playing again, this time with a "real coach" dressed in a suit. The temperature was fantastic, 27ºC, cold beers, something to eat. And everything after a very long day working in the office.
We didn't know, but at the same place, at the end of the match, they were gonna show a film. Was the clone of Cobain who told us. He just turned up there, the guy who dissapear on friday night.
We stayed. And the film, "Japanese Story" turn out to be an already-seen Australian movie. I finished crying, like most of the people sit there, even if it was the second time I watched it.

Then A., my lovely Mexican friend, and I just took our bikes to come back home. Paula didn't have hers, so Adria gave her a funny ride in my electric bike. 'Cause I bought it, yes. Just the day after publishing this post. And me, well... that same day I had gone to the Spanish Trade Commission, where I had, since December, the bike I bought to P. If you ask yourselves why it took me so long to pick it it up, well, the answer is on the title... Isn't it nice my new bike??

And A. left yesterday to Tianjin. She's already back in Beijing, just to spend her last day in China (after year and a half living in Shenzhen and Dalian) before coming back to London and then, the States.
I've got so used to be with her these days that yesterday night, when I arrived from the office, I missed her so much! 'Cause even if I need much time to enjoy my solitude, probably more than any other person, I love to have friends at home, above all, since I'm living alone.
And suddenly, I realized I'm having a lot of visitors this year. V. and R., L., A.... and in a week, my mum. Then my friend K., who'll stay for an undefined period of time; my sister, G., N., A.... and who knows if someone else. To all who already left, thanks for coming. To all that will be coming soon, welcome to Beijing... BEIBEI JINGJING HUANHUAN YINGYING NINI!!